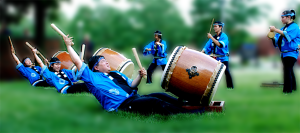 The 58th Annual Ginza Holiday, a large Japanese cultural festival, will be presented by the Midwest Buddhist Temple on August 9th, 10th, and 11th at 435 W. Menomonee Street in Chicago's historic Old Town. Food, demonstrations and crafts!
What:58th Annual Ginza Holiday
When: Friday, August 9, 5:30 pm-9:00pm
Saturday, August 10, 11:30 am-9:30 pm
Sunday, August 11, 11:30 am – 6:00 pm
Where: Midwest Buddhist Temple
435 West Menomonee Street
phone 312-943-7801 • fax 312-943-8069
web site: MidwestBuddhistTemple.org • email: office@midwestbuddhisttemple.org
Office hours: 9 am to 4:30 pm – Monday through Friday
INFO: http://www.ginzachicago.com/
Admission: A benefit donation of $6, $5 for students. Admission on Saturday evening is $10 at 7pm for the Yoko Noge's Japanesque Band Concert at 8pm.
For information, call 312-943-7801