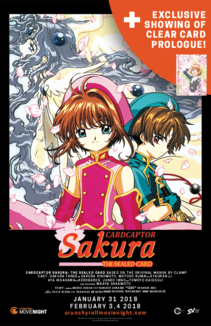 CRUNCHYROLL MOVIE NIGHT
CARDCAPTOR SAKURA: THE SEALED CARD
Jan 31, Feb 2 & 4
Tickets at http://www.crunchyrollmovienight.com
In Cardcaptor Sakura: The Sealed Card, Sakura and Syaoran are reunited at last — but as Sakura tries to come to terms with her feelings for Syaoran, the two must face off against the strongest Clow Card ever made!
The First U.S. Theatrical Debut of this
Classic Magical Girl Adventure
GET THERE EARLY FOR A
LIMITED EDITION POSTCARD
WHILE SUPPLIES LAST!
In addition, don't miss the exclusive showing of the prologue episode of the new Cardcaptor Sakura: Clear Card TV series!