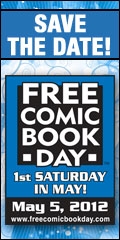 Free Comic Book Day is May 5, 2012!  Save the date!
To find the participating store, please visit the website and enter your zip code in the box!

What is "Free Comic Book Day?"
As the name implies, Free Comic Book Day is a single day when participating comic book specialty shops across North America and around the world give away comic books absolutely free to anyone who comes into their shops.
Are they really free?
Yep!
Different shops have policies on how many free comics you can receive, but you will receive at least one free comic if you enter a participating shop location. Check with your retailer for their policies and plans for FCBD.
Is every comic book store in the world doing this?
If you're asking about convenience stores with a spinner rack of comics in a corner somewhere – the answer is no. This event celebrates the independent comic book specialty shops, thousands of which exist in North America alone. Each one is unique in its community, with a style and personality all its own, and each one carries a full line of comics, graphic novels, toys and related products.
While we hope every one of these shops will take part, each shop determines on its own whether or not to participate. You can check our shop locator for a comic shop near you.