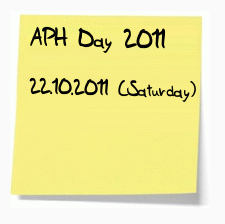 On October 22, 2011 thousands of Axis Powers: Hetalia fans all over the world will celebrate their love for Hetalia, the series that gave them a renewed interest in history and cultures. Meetups are being planned all over the world!  There hasn't been an official local meetup announced, however, you can keep an eye out on Chicago's Hetalia Day website for updates.

Q: What exactly do you do on APH Day?
A: Anything, as long as it's Hetalia-related! Last year there were cosplays, photoshoots, picnics, games/roleplays, artists' booths and more.
There is only one thing we ask people to do: take a photo of their group, showing a flag of their country if possible.
Q: Who started this?
A: Fans, just like you. So please note that this isn't an official event acknowledged by the mangaka, the manga publishers or the anime producers.