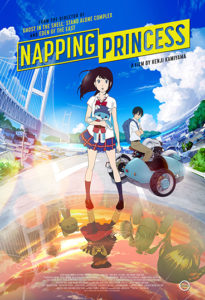 The GKIDS website is reporting showings at the Music Box Theater will begin on September 23, 2017.
Saturday, September 23rd screening dubbed in English | Monday, September 25th screening in Japanese with English subtitles
The year is 2020, three days before the opening of the Tokyo Olympics. While she should be studying for her exams, Kokone Morikawa is often dozing off, stuck between reality and a dream-world full of fantastic motorized contraptions. But after her father, a talented but mysterious mechanic, is arrested for stealing technology from a powerful corporation, it's up to Kokone and her childhood friend Morio to save him. Together they realize that Kokone's dream-world holds the answers to the mystery behind the stolen tech, and they embark on a journey that traverses dreams and reality, city and country, and past and present. Their mission uncovers a trail of clues to her father's disappearance and ultimately a surprising revelation about Kokone's family.
From visionary director Kenji Kamiyama (Cyborg 009 and Ghost in the Shell: Stand Alone Complex) comes a sci-fi fantasy that effortlessly weaves together the rapidly evolving technology of today's world with the fantastic imagination of the next generation. With an ambitious mix of multilayered action, whimsical characters and inventive machines, Napping Princess is a genre- and universe-blending film that shows that following your dreams is sometimes the best way to face your past.
Tickets and Info: musicboxtheatre.com