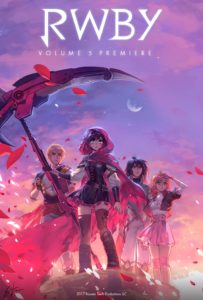 RWBY Volume 5 Premiere
IN THEATERS OCT 12
TICKETS AND INFO AT fathomevents.com
The world of Remnant is filled with horrific monsters bent on the destruction of humanity. Fortunately, the kingdoms of the world have risen to combat these forces by training powerful Huntsmen and Huntresses at academies around the planet. Ruby Rose, Weiss Schnee, Blake Belladonna, and Yang Xiao Long are four such Huntresses in training whose journeys will take them far past the grounds of Beacon Academy. Though each may be powerful on their own, these four girls must come together to work as a team if they truly hope to become the next generation of Remnant's protectors. But can they succeed at each other's side when dark forces gather to divide and destroy humanity?
Be the first to see the newest episode of RWBY, the global hit western-style anime series, on the big screen this October! This special one-night event features the premiere of RWBY Volume 5 Chapter 1, as well as exclusive interviews with the talent and crew regarding the updated creative style and the new season.