Short Peace Film Screening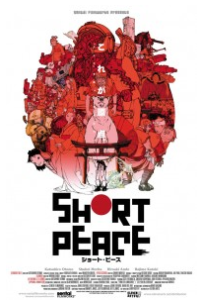 April 23, 2014 @ 7:30 pm
April 30, 2014 @ 7:30 pm
Location: Studio Movie Grill
301 Rice Lake Square
Wheaton, IL 60189
Website/Info: http://www.elevenarts.net/th_gallery/shortpeace/
From The Creator of "AKIRA"
Four Amazing Directors.
Four Astounding Animated Films.
Including The Academy Award® Nominated Animated Short Film
"POSSESSIONS"
Overseen by the legendary Katsuhiro Otomo (Akira, Steamboy), Short Peace is a 2013 Japanese omnibus film consisting of a collection of four shorts, including the 86th Academy Award® nominated Best Animated Short, Possessions. Short Peace is the first film release in over nine years from Otomo, whose long list of prestigious accolades includes a Purple Medal of Honor from the Japanese government, Career Achievement honors at the Annie Awards, as well as being inducted into the Will Eisner Comic Industry Awards Hall of Fame.
In 1995, Katsuhiro Otomo's epic anthology Memories showcased the work of upcoming superstars of the anime world. Now, his spotlight shifts to a fresh generation of master creators with an all-new anthology of visionary films: A lone traveler is confronted by unusual spirits in an abandoned shrine in the 2013 Academy Award® nominated Possessions (Tsukumo), directed by Shuhei Morita (Coicent, Kakurenbo). A mysterious white bear defends the royal family from the predations of a red demon in the brutal Gambo, directed by Hiroaki Ando (Five Numbers!), from Redline's Katsuhito Ishii's original story, with character designs by Yoshiyuki Sadamoto (Neon Genesis Evangelion). The focus shifts from supernatural to science fiction for the action-packed A Farewell to Arms (Buki Yo Saraba), as Mobile Suit Gundam designer Hajime Katoki helms Otomo's tour-de-force saga of men battling robotic tanks in apocalyptic Tokyo. Grandmaster Otomo himself assumes the directorial reigns for a spectacular tale of love, honor, and firefighting in ancient Japan with the multi-award winning Combustible (Hi-No-Youjin). Prepare your senses for the animated films that are taking the critical world by storm as a new era in anime is ushered in with Katsuhiro Otomo's Short Peace!