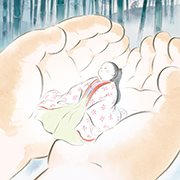 Chicago premiere!
FOUR WEEK RUN!
December 5th-30th
THE TALE OF THE PRINCESS KAGUYA
(KAGUYA-HIME NO MONOGATORI)
2013, Isao Takahata, Japan, 137 min.
Where: Gene Siskel Film Center
of the School of the Art Institute of Chicago
164 N. State Street | Chicago, IL 60601
CLICK HERE FOR SHOWTIMES AND TICKETS
Facebook Page:
https://www.facebook.com/ThePrincessKaguya
A childless bamboo-cutter discovers a tiny baby girl no bigger than the palm of his hand in the woods and takes this apparent gift from the heavens home to his wife. The enchanted child grows rapidly, and, when her doting adoptive father also finds a pot of gold under a tree, greed inspires his ambition to make the girl a princess in the royal court and marry her off to one of a host of venal suitors. The beautiful, headstrong wood nymph and the far-off gods have other plans.
Based on a 10th-century Japanese folk tale, THE TALE OF THE PRINCESS KAGUYA is a marvelous journey steeped in the profound humanism that is the trademark of Studio Ghibli's Isao Takahata (GRAVE OF THE FIREFLIES, ONLY YESTERDAY). Suitable for all ages, the film is simultaneously a uniquely joyous exploration of childhood and a chronicle of love and loss with a poignant mystical dimension. Takahata's seductively subtle animation incorporates watercolor techniques and charcoal line drawings for a masterful and ravishing approach to storytelling. DCP. (BS)
In English at indicated times, with voices by James Caan, Mary Steenburgen, Lucy Liu, Darren Criss, and Chloë Grace Moretz.
In Japanese with English subtitles at indicated times, with voices by Aki Asakura, Kengo Kora, and Takeo Chii.
TWO-FILM DISCOUNT!
Buy a ticket at our regular prices for THE TALE OF THE PRINCESS KAGUYA, and get a ticket for any show of ISAO TAKAHATA AND HIS TALE OF THE PRINCESS KAGUYA at the discount price of $4 with proof of your original purchase. (This discount price applies to the second film only.)