With the popularity of the series growing worldwide, Aniplex of America has released the series to the US audience.
The not-so-typical story of Madoka Kaname and her choice to become a magical girl has taken the world by storm. Part 1 and Part 2 of the Madoka Magica movies retells the original TV series and was set for the big screen.
Originally airing in Japan in the beginning of 2011, Puella Magi Madoka Magica is an original story developed into TV series by Gen Urobuchi, directed by Akiyuki Shimbou, and produced by Aniplex's Atsuhiro Iwakami.
Tickets and info: http://www.musicboxtheatre.com/collections/madoka-magica
Pricing: Tickets are $15 for each screening.
Schedule:
Thursday, December 5th
10:00pm: Madoka Magica Parts 1 and 2
Sunday, December 8th
9:45pm: Madoka Magica 3: Rebellion
Monday, December 9th
9:45pm: Madoka Magica 3: Rebellion
About the films: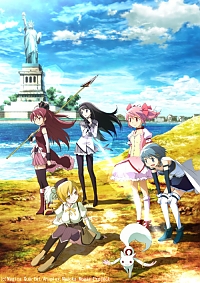 Thu 5 Dec, 10:00pm
Madoka Magica Parts 1 and 2 (2012)directed by Yukihiro Miyamoto
Puella Magi Madoka Magica follows the story of a 14-year-old girl named Madoka Kaname. Madoka is offered the opportunity of gaining magical powers if she agrees to make a contract with a strange little being named Kyubey, Kyubey will also grant Madoka one wish, but in exchange she shall risk her life by accepting the responsibilities of fighting witches. Little does Madoka know what the real risks of making a contract has in-store for her.
Sun 8 Dec, 9:45pm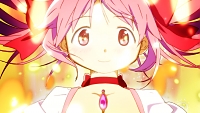 Mon 9 Dec, 9:45pm
Madoka Magica 3: Rebellion (2013)
directed by Yukihiro Miyamoto starring Christine Marie Cabanos, Cristina Vee in Japanese with English subtitles
Madoka Kaname—a girl who once led an ordinary life sacrificed her very existence to set every magical girl free from their cruel destiny. Homura Akemi—another magical girl who was unable to keep her promise with Madoka continues to fight in the world Madoka left her behind in. "I dream of the day when I can finally see your dear smile again."
Following the two theatrical adaptations of the hit TV series, "Puella Magi Madoka Magica The Movie Part 1: Beginnings and Part 2: Eternal," the long-awaited third installment, "Puella Magi Madoka Magica The Movie –Rebellion-," is finally coming to theaters!
This third film will once again bring together the extraordinary members of the Madoka creative staff. Led by chief director Akiyuki Shimbou, the script will be written by Gen Urobuchi from Nitroplus and the original character concept designs will be by aokiume. SHAFT will once again be the studio which will be bringing their work to life.
With a completely new screenplay and animation, "Puella Magi Madoka Magica The Movie –Rebellion-" is a brand new tale of magical girls! Madoka Kaname has changed the world. In this new world, is what the magical girls see a world of hope… or despair?