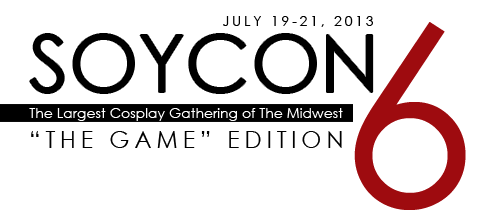 July 19 at 12:00pm until July 21 at 6:00pm
Rolling Meadows, IL
Website – http://www.soycon.com
Email – soycon@soycon.com
Facebook – http://www.facebook.com/pages/SoyCon/218501051744
Twitter – http://twitter.com/SoyCon
YouTube – http://www.youtube.com/user/S0ySaucePr0ducti0ns
Tumblr – http://soycon.tumblr.com/
SoyCon is back with more awesome moments, awesome events, and awesome people! We are back with our 6th year running this event and we got something a bit different this year.
When is SoyCon? July 19-21, 2013. We did our best to not conflict with the other midwest cons. Hopefully your schedules can be arranged to come our event too!
We are setting up different games throughout the weekend for hopefully everyone can enjoy! Games like eating contests, relay races, egg tossing, tug-o-wars, and probably throw in some Angry Bird dodge ball! Some of favorite events will be there too such as The Battlefield and Interpretive Dance Central!
Where is this place taken place at? If you were here for the past few years, you already know where it is. For first timers, our event takes place in Ned's Brown Meadow in Rolling Meadows, IL. Unfortunately picnic groves don't have addresses, but the easiest way you can find us if you map us out. We are by Ring Rd. and Golf Rd. We're pretty close to Woodfield Mall if you need a landmark. Plus, on July 19th, we are having a special beach day at 12th Street Beach in Chicago, IL. If you want to get ahead start, meeting up with some SoyCon attendees, hit the beach with your swimsuit and gear!
The Entry Cost? IT'S FREE! Come with your registration forms and we'll get you all setup with your badge and information envelopes! Also, this is also a potluck style event. So please bring water, bring food, bring tables, bring ladders, bring chairs! OH MY!!!